Researcher profile: Dr Paz Briones
In my laboratory we are focused in the diagnosis and study of genetic diseases, in particular Galactosemias, Disorders of Mitochondrial Metabolism and Congenital Defects of Glycosylation. We do translational research in order to improve the diagnosis and treatment of affected patients, as well as to enhance the knowledge of these pathologies.
Escrito por Dr Paz Briones, published más de 4 años.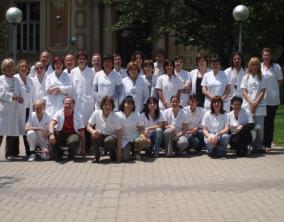 My work on CDG started in 1997 and since then I have participated in several European projects, like EUROGLYCAN (2000 – 2003) and EUROGLYCANET (2005-2008), that aimed to improve early diagnosis by offering diagnostic tools for screening as well as for expert analysis and by raising awareness. In addition, my laboratory was involved in a project coordinated at the Spanish level (CDG Diagnosis and follow-up, application of new biochemical tests to study the N- and O- glycosylation defects, 2005-2007). From these studies at least 17 publications related to CDG were done and are available in Pubmed.
During the last 15 years, many reference centers for Inborn Errors of Metabolism introduced CDG screening in their diagnostic protocols. Due to the complexity of this group of diseases, cooperation between centers has been essential.
Currently, we are applying to several grants in order to continue the studies related to the biochemical and genetic characterization of new patients and types of Congenital Defects of Glycosylation (CDG). We know that for families it is extremely important to have a diagnosis in order to improve patient's outcomes.
Dr Paz Briones
Científico Titular CSIC
IBC. Secció d'Errors Congènits del Metabolismo
Hospital Clínic, CIBERER, IDIBAPS
Barcelona, Spain

Escrito por Dr Paz Briones, published más de 4 años.