International Meeting of Porphyria patients Lucerne 2013
The International Porphyria Patient Day, organized by the Swiss Society for Porphyria and the German EPP Patient Group, was held on Saturday, May 18th, 2013. Comments or questions about information contained in the video? Join the conversation.
Written by Porphyria patient advocates, published over 3 years ago.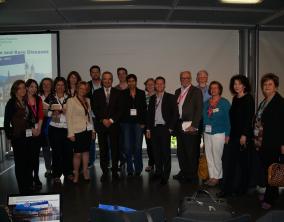 Primary objectives of the Patient Day:
-Networking between individual patients, their organizations and the scientific experts in the field of porphyria
-Sharing information on the latest research activities and clinical advances
-Discussing international collaborations between patient organizations and planning for an international umbrella organization to more effectively protect patients' well-being and promote their interests
The videos and files posted here are for personal use only. These videos and presentations should not be distributed further or shared on other websites without the consent of the author. Click on the presentation name to download the file when available.

Welcome Remarks
Patient groups introduce themselves
Listen to the entire audio:
Porphyria Argentina - Estela Y. Ferrari de Frassia
Porphyria Australia - Sean Hegarty
Porphria Brazil - Bénie Maria Scandelari Bussmann
Alberta Porphyria Society (Canada) - Wendy Sauve
Porphyria France - Sylvie Le Moal
Porphyria Spain - Joaquin Montoto
Porphyria Sweden - Kerstin Bjernevik
Porphyria United Kingdom - John Chamberlayne
American Porphyria Foundation - Desiree Lyon (oral presentation without slides)
EPP Germany - Verena Schmeder
Porphyria Switzerland - Rocco Falchetto
Message from Conference President

Medical sessions
Acute porphyrias : Diagnosis, complications and treatment options -Pr Jean-Charles Deybach, MD, PhD
Listen to the entire audio:
Erythropoietic Porphyria : Treatment options and long-term complications Staffan Wahlin MD PhD
Listen to the entire audio:
Pain in Porphyria - hepatic and cutaneous - Dr. Matthias Firnau
Listen to the entire audio:
Patient Testimonials: Rocco (EPP) and Sue (AIP)
Presentation: Living with Acute Intermittent Porphyria (AIP) - Sue Burrell
Resources
Porphyria community on RareConnect - Rob Pleticha, EURORDIS
Listen to the entire audio:
Written by Porphyria patient advocates, published over 3 years ago.