Support and contribute to research by donating blood
Written by RareConnect team, published over 4 years ago.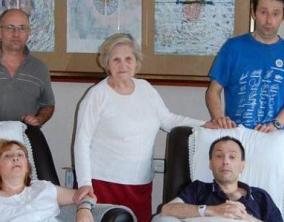 Ernesto Montero from Moraleja in Spain's Cáceres province is the healthy brother of a family that has been cruelly affected by chorea-acanthocytosis. He, his mother and three affected siblings, David, Mario and Pilar live in a small town a long drive to a medical centre. Ernesto and his mother have the enormous job of caring for three adult patients with little support. All three siblings have special interests and needs. David likes music and is a writer; he has a laptop with a programme which speaks what he writes. Pilar has two grown children, and Mario enjoys all forms of sport.
In spite of their distance from a specialist treatment centre, Ernesto and all the family wanted to help the research effort to find the cause and eventually a therapy for NA. Ernesto has organized for blood samples from David, Mario and Pilar to be drawn and sent to the Medical University of Vienna where research supported in an initiative of the European Union is being pursued to investigate the mechanisms that lead to brain cell death. Thanking them Claudia Roos in Vienna wrote, " The samples were in good condition and reacted as we expected, so they support our previous findings! Part of the samples is frozen and will be used for further studies. Thank you all for the support! Best wishes from Vienna!"
In addition to the Montero family, David Nicholson, Peter Clark, Alexandra Irvine, Ambreen Baig, Spencer Holder and other patients in Germany and Turkey have all donated blood samples that have made an invaluable contribution to the Medical University of Vienna-based team investigating a novel hypothesis about chorein, the missing protein in ChAc patients. The research characterizes the differences between red blood cell (erythrocyte) membrane properties in patients and unaffected controls. It combines biochemical methods with confocal microscopy and flow cytometric analysis.
They are currently investigating the interaction between the cell skeleton membrane and other elements of the cell at the molecular level. These studies on the red blood cell membrane may discover the underlying neuronal defect in neuroacanthocytosis.
The blood samples must be fresh. This may make donations beyond Europe not useful for this research, but projects around the world will need sample donations in the future. If you would like to support research by providing blood or tissue donations please contact:
Glenn Irvine at glenn@naadvcacy.org.
All expenses will be refunded.
Written by RareConnect team, published over 4 years ago.