Confirm your diagnosis: "My gift"
I describe NA as "my gift" that began to reveal itself in the clues so small that I ignored them. First my speech had minuscule slurs that I attributed dehydration from running. I just drank more.
Written by RareConnect team, published 11 months ago.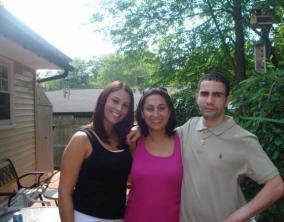 When I proposed to Isabel, she smiled her beautiful smile and said, "Of course I'll marry you!". During our dinner, I ignored it in my happiness another subtle clue. My tongue started pushing food out. If Isabel noticed what was happening, she didn't show it.
Running marathons was my passion. Just after our marriage, I started a marathon that would be my last competitive run! I was so exhausted that I completed only half. I attributed my fatigue to my hectic schedule. My last road race was a 5K or 3.1 mile run; I did horribly completing it just under thirty minutes. I didn't have the energy and eventually, my legs became so uncoordinated; I had to stop running. "My gift" had taken away the first, but not the last, of my interests.
Unbeknownst to me "my gift" attacked my reflexes resulting in a major car accident at work. It was time to see my doctor, who referred me to a leading New England hospital.
Thus began my seemingly endless medical tests. First came blood tests looking for abnormalities in my B12, iron, ferritin, lactate, pyruvate, vitamin E, white blood cells, hemoglobin, hematocrit levels etc. An inconclusive EMG, for muscle reaction followed. Next was an MRI of my lower spine which revealed an unrelated bulging disc. Video swallowing exams showed I had no gag reflex, which didn't account for my tongue's new life.
I began to involuntarily bite my inner cheeks, lips, and tongue to the point of drawing blood.
My work at UPS became more difficult due to fatigue and slower reflexes, but I had to "carry on". My customers began to notice my worsening speech as well. After five years "my gift" was still unnamed and so the tests continued.
A small bowel biopsy to test for Whipple's disease revealed nothing. The next test involved urinating into a container for 24 hours to test for Wilson's disease. A genetic test for Huntington's disease followed. A spinal fluid test and muscle biopsy revealed nothing. A blood smear for acanthocytes was inconclusive because the method of processing the smear was incorrect. An MRI of the brain and of the cervical spine both came up normal.
My slow reflexes did not react quickly enough when I hit a patch of black ice in my UPS vehicle and slammed the vehicle into a tree. My driving career at UPS was over; my job however was safe as long as I worked split shifts, five p.m. to nine p.m. and three a.m. to seven a.m.. It was hard to keep up with the fast paced work environment, but I did.
Speech was completely taken from me next, followed soon by eating solid foods. My incessant biting had gotten so bad that I was lit literally drooling blood and even considering having all of my teeth removed. At first I carried a face cloth in my mouth, unattractive yet effective.
Next my wife made a " tooth blocker" with cloth, but I had to remove it to take my pills and drink my meals. I was now on a liquid diet taking my nutrition in through a straw. Finally, taking a piece from my favorite sport of Boxing I began to use a mouth guard. Eureka! A straw could be threaded through the breathing hole and pills could be manipulated through the guard. Problem solved, for now.
"My gift" was unwrapped when a blood test revealed very low levels of "chorein" indicating "chorea-acanthocytosis".. What is "chorea-acanthocytosis", well the best way I can describe it is Parkinson's, Lou Gehrig's (MND), and Muscular Dystrophy wrapped in one package of which there is no cure, of course. The successful diagnostic test was made in Munich supported by the Advocacy.
Your doctor can find details on the free diagnostic service at: http://www.euro-hd.net/html/na/submodule/n...
Details about the chorein diagnostic test:
http://www.euro-hd.net/html/na/network/doc...
Written by RareConnect team, published 11 months ago.