Nico's Story
Hi,
My name is Tina and I am the mother of Emily 7, and Nico 6. Nico was recently diagnosed with Glut-1 DS and has been on the ketogenic diet since last week.
Written by All4Nico, published over 2 years ago.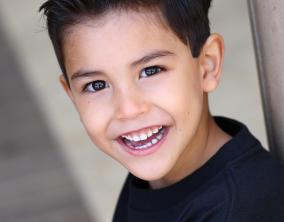 Nico was born October 21, 2004. He was developing normally until at about 9 months when he had his seizure. It was a tonic-clonic seizure which lasted about 2 minutes. We called 911, but by the time the ambulance arrived the seizure was over and he was sleeping peacefully. We described to the paramedics what we saw. The paramedics advised us that what he had may have been a seizure and that we should have him seen by a neurologist.
We took him to Kaiser where he was given an MRI, EEG, and other tests. We were given no answers as to what may have caused the seizure. We were given a prescription for Topomax and sent home.
My husband, Fernando, and I were already very opposed to drugs due to negative experiences we had. We began administering the Topomax at a low dose. Nico experienced another seizure within 2 months of starting the medication. He also began having the little head drop seizures with the "fluttery" eyes. These were 1-2 seconds long and occured just after waking up. He would have at least 10-15 of these until after he ate breakfast. The topomax was now being administered at the highest dose recommended and the seizures were not changing.
We weaned him off the topomax and went back to the neuro for more answers. We explained that the seizures were occurring only in the morning after waking up and then diminishing after breakfast. The doctor suggested we try Depakote. We asked for a diagnosis and we were told that Nico had Epilepsy and would have to be on meds to control the seizures.
Depakote was administered, but when I saw no changes I stopped it. We were then given Lamictal and when that didn't work, Trileptal, then Keppra and a few other that I can't remember. Each time the seizures got worse or stayed the same.
All the time we were telling the nuero that the seizures were stopping after he had eaten. We had already changed doctors 2 times and 4 years had gone by with still no answers. His development was very delayed. He sat up at 12 months, he began walking at 3 years old with intensive therapy. His walking is a little awkward and receives therapy. His speech was slow and he has been in speech therapy. At 5 years old he began being seen at Children's Hospital Los Angeles.
We asked the doctors there to test him for diabetes because of the seizures only occurring in the morning after fasting all night. We thought his blood sugar was dropping? Negative. We had many arguments with the doctors about meds since we were not giving him any until we had a diagnosis.
We finally were referred to a Nuero Muscular doctor to address the issue of his abnormal gait and fine motor skills. After explaining all the symptoms Nico was experiencing, Dr. Ramos-Platt ordered thorough genetic testing. From that she was able to diagnose the Glucose Transporter Deficiency Syndrome.
Basically, Nico's brain was being starved of glucose (which is the brain's main fuel) for the past 6 years! The fact that the seizures would give way after a hearty meal was a big clue. We were both happy and sad at the same time to finally have an answer! The sadness was mainly because we were told that early diagnosis was the best way to control this syndrome. But happy because it's never too late!!
We transferred Nico's care to UCLA for personal reasons. At UCLA he was initiated on the Ketogenic diet on Sept. 26, 2011.
Nico has reawakened!! On the first morning after starting the diet, he woke up at 6 am to use the restroom , ALL BY HIMSELF!! All I could do was cry!! Nico's daily morning routine would go like this: 7am wakes up crying with a headache or too dizzy to walk or sometimes with left-side paralysis. Mommy has to help him go the restroom, brush his teeth, and get dressed...all this while he is having seizure after seizure. He has to lay in bed until breakfast is ready. Mommy then has to help him to the table, strap him to his chair (to prevent falling), and then help feed him. He then he goes to school where he continues to have seizures until about 10 am. During this time teacher has to strap him to a special chair with wheels. After this time, Nico is a different boy. He is able to play and run and eat by himself.
Some seizures would occur during the day if too much activity or not eating on time. But overall, his seizures mainly occurred in the morning.
On the second day after the diet, he again got up at 6 am to use the restroom. I asked him how he was feeling and he said "I'm feeling soo well" :) At home, he continues to get up at 6am to use the restroom (no more wetting the bed!!) . I have observed him carefully to see if the seizures were still there, and I didn't see a single one! And to this day, praise be to God, still none!!
At school, teachers report that Nico is more interested in what is going on around him. He wants to participate more and is noticeably "more happy"!!
This diet is truly a miracle! I am soo thankful for Dr. Ramos-Platt from CHLA and Dr. Choe from UCLA and the dieticians Kristina Murata, and Michele Kezele!! What an awesome team!!
Written by All4Nico, published over 2 years ago.