Dylan's Story
Dylan has an infectious smile and touches many hearts.
Written by RareConnect team, published 10 months ago.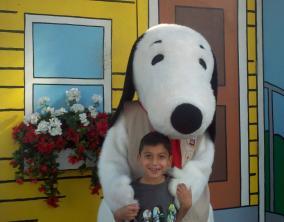 Dylan was born on April 26, 2004, full term, via C-section. At 10wks old Dylan had a febrile and generalized seizure lasting over five minutes. Dylan was brought to Children's Hospital in Los Angeles, where a lumber puncture, CT of the brain and lab work was done. There was no known etiology for Dylan's symptoms.
At eight months of age a full metabolic workout and EEG showed episodes of multiple tonic clonic seizures. Dylan has a history of myoclonic, clonic-tonic, complex partial, and absence seizures, high fevers, respiratory problems including asthma, ataxia, speech disorders, hypotonia, developmental delay, unspecified mental retardation, and intractable epilepsy. Dylan was recently diagnosed with Glut1 DS.
After doctors were able to confirm the Glut1 DS diagnosis, Dylan began weaning off of neuroepileptic drugs and started the ketogenic diet in January 2011. He is now on a version of the Modified Atkins Diet with MCT oil. This diet has been successful for him. I do anticipate him going back on the ketogentic diet because I'm sure we would have better results.
Dylan is a second grader in a special day class who continues to grow and learn. He is affectionate, loving, happy, friendly and caring. He loves to laugh, sing, dance, listen to music, go to the park, swim and hang out at Knott's Berry Farm with Snoopy. He interacts with people by saying hi and greeting them with a smile. He loves everyone. Always wants a kiss on the cheek.
I'm very thankful for the Remi Savioz GLUT1 Foundation. The support and information you provide regarding Glut1 DS to me and my family provides encouragement and hope. The Foundation is a tremendous help to Glut1 patients and families like us.
Written by RareConnect team, published 10 months ago.