A diagnosis after 35 years of therapeutic wandering
By the age of 50, I'd had Erdheim-Chester Disease since I was 13, but it was not diagnosed until 2014.
Hello. My name is Jean François D. and I'm 50 years old. I'm married and live in northern France.
The diagnosis of Erdheim-Chester Disease (ECD) was made by Professor Hachulla's teams at CHRU in Lille, in March of 2014, following a 3-week long hospitalization.
Written by JFDeleplanque, published 6 months ago.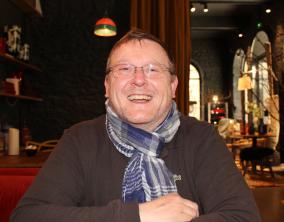 The first signs of ECD appeared at the age of 13, with sudden weight gain. I doubled my weight within a year, then came the severe bone pain in my calves, a blood assessment showing an inflammatory syndrome (above average ESR and CRP), and severe night sweats. All these symptoms, except for weight gain, came and went, posing real problems for the internists who I soon met. My weight continued to increase despite and because of multiple diets, and my metabolism was soon deregulated: hypertension, cholesterol and diabetes. At 18 years of age, I had the diseases of a sedentary 50 year old man. And these sporadic and inexplicable bone pains and night sweats all the time. At 20 years, I started drinking like a madman, up to 25 liters [6.6 gallons] a day… It was hell on earth!
The endocrinologist who followed up with me was unable to decide between potomania and diabetes insipidus. A water deprivation test and an MRI at age 24 showing hypophyseal damage reaching the pituitary stem confirmed the diagnosis of diabetes insipidus. Fortunately, there was a treatment: Minirin, which, since then, enables me to lead a decent life.
The years which followed were rather difficult because I weighed 160 kg [352.7 lbs] then. I was an export manager missing from his post 3 weeks out of 4, 6 days out of 7; my vacations often being marked by hospitalizations, since everything began to malfunction. CRP soaring, bone pains, night fevers and sweats that woke me up, and always, uncertainty. By turns, I was diagnosed with bone cancer, sarcoidosis, leukemia, and in the 80s and 90s, I was suspected of having a yet unlabeled strain of AIDS.
I also had to deal with a body deformed by obesity, and the initial complications of diabetes. And above all, the diagnosis of my infertility, azoospermia! An ugly word to use in the complete absence of sperm in my semen…
In 2000, I wanted to end my life, but the urge within me to live was stronger, and I made an emergency call to an internist in Strasbourg, Professor Schlienger. He made the diagnosis of Wolfram syndrome. I met 80% of the criteria. It had to be that. The announcement of this disease was a deliverance. I was not a monster, nor insane--simply sick.
Thanks to this doctor, we regained order in my life. I went on a diet that enabled me to lose 50 kg [110.2 lbs], had psychotherapy to understand what went wrong, stabilize my type 2 diabetes, and treat hypertension and cholesterol.
In 2003, after being dismissed from my job following a mistake by a consultant that I did not know was corrected because I was going through depression, I did not find the strength necessary to deal with it; I underwent six plastic surgery operations to make my body presentable. Thank you to professor Wilk for his assistance during this period.
In 2005, after 3 operations and before having the fourth, I had very severe pains in my left calf, which disappeared as soon as I stopped walking and began again while walking. I could not walk any more that 250 m [273.4 yards] without pain, and thanks to an arterial Doppler, it was found that my left common iliac artery was 95% blocked! And a primary stent with all the pharmacopoeia and the routine follow-ups which ensued.
In 2006, installation of a gastric ring because I gained weight again!? Without explanation…
And another stent on the right iliac who, jealous of the left, was blocked as well…
From then on, until 2010, I lived rather well. I was dealing with the consequences of this rotten Wolfram syndrome, and relative calm reigned. I benefited from it by meeting the love of my life, who I married in 2009.
In 2010, pericarditis puts me on the sidelines. Then, in 2013, two other instances of pericarditis in a row, a pleuro-pericardial fenestration and, at the end of 2013, following a series of major dizzy spells, an MRI highlighting a tumor in the tail cone of my right eye.
At this moment, fear twisted up my insides because they were planning a pericardiectomy to soothe my heart, trapped in its sac and suffering more and more.
In October 2013, on the advice of my nephrologist, I had written to Prof. Hachulla to ask for his assistance.
At the beginning of 2014, I lose sight in my right eye. They plan to operate on the tumor by opening my skull, and opening up my rib cage to palliate my heart by removing the pericardium.
A cardiologist who takes care of me made me do some tests, including catheterization, showing different pressures between the left and right atria?! She tells me, in the presence of my wife, that they can't operate on me because they aren't sure that I will survive it. Boom! And my condition worsens.
Hospitalized in internal medicine at Prof. Hachulla's, the initial Wolfram diagnosis is invalidated during the course of the day, then that of Erdheim Chester made.
A high dose of cortisone returns my sight to me, and reduces the cardiac inflammation. They also give me some Pegasys, a pegylated interferon.
A horror that I can bear less and less, and in July, after 3 suicidal urges, we switched to Zelboraf.
I've been taking this drug for 25 months now. I experience a lot of side effects, some of which are fatigue, sunburn in cloudy weather, and muscle pain.
I'm also dealing with the consequences of diabetes and ECD on a renal level. They're considering a second renal stent to preserve my last kidney, and follow-ups of two carpal tunnels operated on too late because of the corticotherapy, which masked the pain.
I've also been monitored by Professor Haroche from Salpetriere for a year. I met other patients suffering from ECD and took part in the ECD Patients Convention, organized by the ECD Global Alliance, founded by [K]athy Brewer.
Besides this, we plan to create some sort of French-speaking branch company to unite and support Erdheim-Chester patients.
Written by JFDeleplanque, published 6 months ago.