Glycoimmunology Group
Chronic Diseases Research Centre, Lisbon, Portugal
Faculdade de Ciências Médicas, Universidade Nova de Lisboa, Portugal: http://www.fcm.unl.pt/main/
Written by Dr. Paula Videira, published over 5 years ago.
We are a young group of researchers, eager to understand the biological aspects of glycans that cover all our cells. We are basic science immunologists, biochemists and cellular/molecular biologists.
We anticipate that this understanding will permit the design of novel therapeutic strategies against cancer or infection. Specifically:
1) We aim to understand how the immune responses mediated by the dendritic cell (DC), are modulated by sialylated glycan structures. These DCs are usually strategically placed as sentinels to protect us from pathogens. They are one of the most important leukocytes linking innate and adaptive immune responses and have been used in cellular therapies.
2) We aim to identify novel glycan-based biomarkers of cancer. In fact a hallmark of malignancy is the deranged expression of glycans at tumour cell surface. By understanding the pathophysiological role of the tumour glycans we will be able to develop innovative therapeutic strategies to fight cancer progression.
Our research has focused essentially in the following interconnected areas:
1) Modulation of dendritic cell (DC) immune responses by sialic acids or specific sialylated structures.
Through a fundamental approach, we have been clarifying the relevance of sialic acids in human and mice DCs, focusing on differentiation/ontogeny, maturation, capacity for capturing antigens (ex: tumour cells, bacteria), for priming T lymphocytes and adhere to endothelium. Since DCs can be used as vaccines to burst an immune response against pathogens or tumoral antigens, our results are expected to be relevant to enhance DC-based vaccines.
2) Glycan based biomarkers and its pathophysiological relevance in cancer.
Through the analysis of patient's specimens and genetically modified cancer cell lines, we have been investigating specific tumour associated glycan structures, in particular sialic acid containing glycans. Our focus has been on bladder, lung, pancreatic and breast cancer, aiming specifically:
- To investigate the prognostic/predictive value of glycans structures and how they are modulated during metastasis and recurrence.
- To investigate the molecular basis of glycans pathophysiological role.
- To develop novel immune based therapies.
Research Team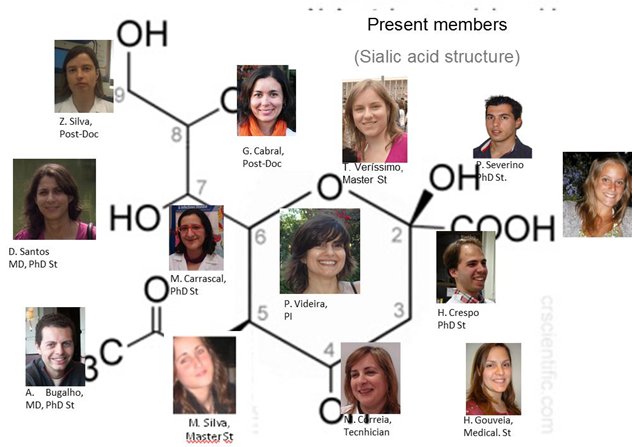 Paula Videira, PhD GROUP LEADER
paula.videira@fcm.unl.pt
Guadalupe Cabral, PhD POST-DOC FELLOW
guadalupe.cabral@fcm.unl.pt
Zélia Silva, PhD POST-DOC FELLOW
zelia.silva@fcm.unl.pt
Carlos Novo, PhD INVESTIGATOR
cnovo@ihmt.unl.pt
Hélio Crespo, BScPhD STUDENT
helio.crespo@fcm.unl.pt
Paulo Severino, MSc PhD STUDENT
paulo.severino@fcm.unl.pt
António Bugalho, MD, MSc PhD STUDENT
antonio.bugalho@gmail.com
David Lopes MASTER STUDENT
david.lopes@fcm.unl.pt
Helena Gouveia MASTER STUDENT
gouveiah@gmail.com
Joana Almeida MASTER STUDENT
joanafreitasdealmeida@gmail.com
Mariana Martins da Silva MASTER STUDENT
marianasilva23236@gmail.com
Mylène Carrascal MASTER STUDENT
mylene.carrascal@fcm.unl.pt
Manuela Correia TECHNICIAN
manuela.correia@fcm.unl.pt
Teresa Veríssimo MASTER STUDENT
verissimo.teresa@gmail.com
Written by Dr. Paula Videira, published over 5 years ago.