Yvonne's Story
In July 1999, I had horrible pains in my feet. I was on vacation in Spain with my family and I was taking tons of pain killers. I had trouble walking...
Written by Yvonne, published about 1 year ago.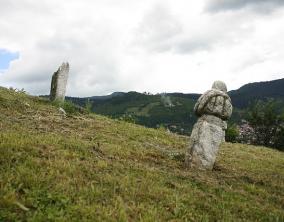 When I came back home, I made an appointment with a rheumatologist. He told me it was arthritis and prescribed some drugs. The x-rays showed there was nothing wrong with the hip cartilage. The pain was unbearable and the pain-killers had no effect. In September I went to the hospital in search of a diagnosis. I first went to the neurology department where they injected morphine, anti-inflammatory and analgesic drugs.
After taking some x-rays, I went to the rheumatology department. I filled in many forms, but I forgot to tell them that my urine was getting black when in contact with air. When I told my rheumatologist, he gave me a cup to keep the urine. The next day, the urine was black and they sent it to a specialized lab. That's when they told me I was suffering from Ochronosis. They were very nice.
The rheumatologist explained that the joint should be replaced when the cartilage is worn out. It hurt a lot in January 2000 and I had new x-rays done which showed all of my hips' joints had disappeared. The bone was rubbing against the bone and this was hurting me a lot. I made an emergency appointment with my surgeon.
He told me he had just operated on a 60-year-old man's knee, both this patient's hips having been operated on when he was my age, 46/47 years old. So they replaced both my hips on April, 18 2000 and after some physical therapy, some aquagym, hiking and exercising, I was better. I remember feeling pain in my left foot, but now I'm ok. I exercise once a week for an hour, I do aquagym with my physical therapist and I walk a lot.
When I remain seated in front of my computer, I feel pain in my lower back and my feet, and I need to move. I also drink two liters of water a day to avoid renal issues. After the surgery I wanted to lose some weight and I lost 6 kilograms. I feel much better in my joints after losing that weight. I am not following any special diet, but for dinner I eat a lot of fruit (which are not rich in phenylalanine or tyrosine) and only one kind of starchy food or something low on calories.
Before I go to bed, instead of taking pain-killers, I take a warm bath or a shower and I sleep very well, and I wish that could last forever.
Written by Yvonne, published about 1 year ago.